1:59 pm
[rccola18]

NEED A MALE ROOMIE
Want a hot single in Alumni? ARe you a guy? Must have enough credits and requirements to live here. IF desired please give me an IM at Rcola182 or reply here.
3:39 pm
[vonesper]

Dude...someone awesome must be looking for a spot in the Olde, right? Well, time is a ticking and we need 1 more dude to fill our apartment. You will be living in a double with this cool cat named Diego with a bunch on non-smoking awesome guys.
Seriouslly, we are awesome and fun!! I mean, look at us: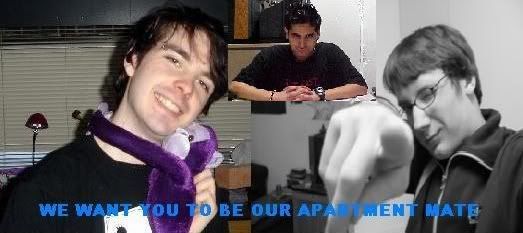 Contact:
Diego at (917) 860-7101, Kevin at (914) 522-2215, or Matt at (518) 281-1953 ASAP
9:40 pm
[koolxthing]

please please please let me get a roommate
hi. my name is kat.
i like fun music, zombie movies, prosex feminism, pabst blue ribbon and pink eyeshadow.
i also smoke cigarettes.
i'm looking for a girl to share a double in the olde with me that smokes cigarettes too, is a little messy, has 32 (?) or more completed credits or is 22 or older.
please live with me. im really good at baking cakes. funfetti ones in particular. ill bake you a cake next semester if you live with me.
PWEASE!? I'M GETTING DESPERATE